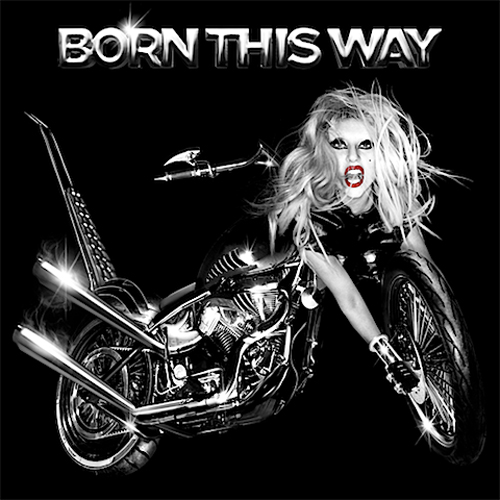 Born This Way has leaked! Only hours before it will be played on the Metro newspaper website. A lot of monsters couldn't help but download it. It has been causing a lot of fights between monsters because some are downloading it while others are waiting the rest of the time until the album officially comes out. It is very hard to wait though, while everyone else seems to be listening. I feel that if you are going to be buying the album then it is ok to download it before it comes out because you are buying it anyway.
Of course, I downloaded it as soon as I found out and wanted to listen to it. I wanted to wait until it officially came out but I knew I could not. I still have the deluxe version to look forward to with 3 extra songs that aren't out yet and some remixes.
I won't post any songs or links but I wanted to share my thoughts about the songs on the album.
1. Marry The Night
I loved it the moment I first heard it on Gagaville. I love the beat and I love her voice and power that she sings with. One of my favs for sure! I heard the song the other day on youtube when DJ Zedd (who worked with her and DJ White Shadow on the album) played a remix of the song in a DJ set of his in Tokyo. The vocals were spectacular on top of any beat! I hope he puts out a real copy of his remix but I think it might have just been improvisation. Apparently this song is about her career and her "rise to fame and the whole pressure behind it."
2. Born This Way
Of course we have all heard this one before so it doesn't have it's brand new feeling. But still it is a very important song because it means a lot to many people, it has changed peoples lives, it is the title track of the album, it held the number 1 spot on the charts for many weeks and broke so many records, and it gave us a taste of what was in store for us with the new album after we waited so long for some new gaga material between the fame monster up until this songs release. I can still remember the goosebumps I got while watching the 2010 VMA's and Gaga took the stage to accept her award in her meat dress and as she cried she sang a verse of this song and we were all blown away. Lady Gaga has said to Harper's Bazaar Magazine "Born This Way is the marijuana to the heroin of the album. The [album's] experience gets massively more intense as you explore it. All the different songs are different kinds of highs."
3. Government Hooker
Again, this song brings me memories of the first time I heard it in Thierry Mugler's fashion show in March 2011. The chills I got when Gaga came out on to the catwalk and I was shaking all over when I heard her sing "Hooooookaaahh! Hooooookaaahh!" It was the song I was looking forward to hearing the most. After hearing that the song at the fashion show was only a remix of the real song I was worried how the real one would sound because usually remixes sound very different campared to the original songs. But luckily Government Hooker sounds just like the Mugler Version. It is the slightest bit slower and there are more lyrics of course. But I am so happy that I sounds the same. I think it's funny that Lady Gaga's body guard, Pete, did the backing male vocals in the song. Apparently DJ White Shadow was playing the beat of the song and Gaga started singing a lot to it and making up vocals on the spot and it just flowed and worked. Pete's got a funny accent and Gaga gave him a piece of paper to read off of and that was just him talking in his reading voice. Pretty cool!
4. Judas
Judas is such a unique song and sounds nothing like the rest of the album and nothing like anything that I've really ever heard before. It is very catchy and even people I know that don't like Gaga are constantly humming and singing it all the time against their will because it is stuck in their head! I remember reading somewhere online that someone who listened to it before it came out described it as Bad Romance launched 1000 years into the future and given back to give us a futuristic sound.
5. Scheiße
Scheiße is another song that was premiered on a Mugler fashion show in January and was also said to be a remix of the actual song. I was thrilled to hear that the real version of scheiße sounds the same but has more lyrics. It is amazing and as I described to my friend Feidh on stardoll... it is an eargasm!
6. Hair
I wasn't too fond of this song when I first heard it. A lot of people said that after listening to it a few times it grew on them... well I have listened to it several times now and I am still not fond of it. It sounds a little like Born This Way, being in the chanting anthem style. The song gets a little bit better towards the end as it gets faster but I am still not in love with it. The song means a lot to some people and it is the favorite of many but I am just not feeling it. Hair came out yesterday morning and Marry the Night came out at night and many people were comparing the two. A lot of people liked Hair better than Marry the Night and it just confused me because I think Marry The Night is better. But everyone has their own opinion about everything!
7. Heavy Metal Lover
I love it! It is the song Gaga used as the intro to her new Gagavisions. I kept telling people it was a song on the album but they were saying it was just a opening song created specially for Gagavision.
8. Americano
Wow her vocals sound exactly like they did when she performed this song live on the piano in Mexico for her last Monster Ball. Apparently there will be a piano version of this song!
9. Highway Unicorn (Road To Love)
I heard a very poor quality snippet of this song earlier today recorded from HMV in the UK where they are playing the album in the store (and apparently selling it too, hence the leak). The vocals were so prominent even though the quality was terrible. The full quality version is even better!
10. Bloody Mary
I heard this song described before it came out as "Something that sounds nothing like she's ever done before." And for sure it is very different. The beats of the song were played before on Gagavision and the beat was so crazy everyone was saying they were getting chills listening to it. It is definitely something very good. I really like how at one point during the sound it sounds like they are whispering "GA GA." I love how she always puts her names into a lot of her songs (Bad Romance, Judas, etc)
11. Electric Chapel
I heard a bad quality snippet of this song today as well. It took me a few plays to figure out song it was until I listened carefully and heard her say "Electric Chapel" at one point. It is another song we have heard on Gagavision already. It is good but not really one of my favorites.
12. You & I
I was not too happy about this song because after hearing it live so many times and then hearing the real thing, it is not exactly the same. The "boom boom clap" beat is distracting and a lot of people are going to say she copied Katy Perry's "E.T." although the boom boom clap really comes from Queen's "We Will Rock You." I liked the way Gaga would sing it live, it had so much heart to it and the recording of course can never capture the heart of a live performance. I just don't understand why she wrote a song about her boyfriend Luc Carl. I know he is her boyfriend but in the celebrity world relationships come and go... I mean look at all the men she has gone out with in the past few years. It is strange that she would write a song about him when it could end tomorrow... who knows. Well at least she didn't tattoo his name on her!
13. Bad Kids
A little disappointed in this one. I don't really like it. There was a lot of hype about this song and it really just doesn't do anything for me because it's not.... bad enough? The bass line has a very disco/dance feeling to it so it's not very rebellious. You can't feel like a bad kid and a punk and all that when you are feeling like dancing..... And the part where she says "I'm a bad kid...etc..." sounds a bit like the "I'm just a holy fool.. etc.." in Judas.
14. The Edge Of Glory
I looooove this song and let's see... since last monday when it came out I have played it about 50 times. Sometimes I would just leave it on repeat. That's how much I love it. It is amazing. It is a tribute to her late grandfather and has a lot of meaning to her. She performed it in the Radio 1 Big Weekend show and you could see the emotion on her face. I was astonished at how her live vocals on Edge of Glory with only a piano sounded exactly like the recording... such a wonderful song and wonderful lyrics.
Now I wait for the remaining songs... Black Jesus † Amen Fashion, Fashion Of His Love, The Queen, and the remixes.
I am also thinking a lot about the Born This Way Ball and what's in store. I can't wait to hear all of these songs performed live and I wonder how she is going to present them (what kid of props and setting, etc)
So all in all, my favorite songs off of the album are Marry The Night, Government Hooker, Scheiße, Heavy Metal Lover, Bloody Mary, The Edge Of Glory